iCloud for Windows 10 will help you to sync all your documents, photos, videos, emails, and even Safari bookmarks. There is room for 3rd party browser bookmarks also. Do not forget to set up iCloud on other Apple devices, too, such as Mac, iPhone, iPad. Otherwise, there will not be anything to synchronize and update in the first place. Everything remains updated and in sync across all your devices. For that purpose, you will need to download and install iCloud on Windows 10 PC.
Install iCloud on Windows 10
What You Need or Prerequisites
Here mention is everything you need before you can download and install iCloud on your PC.
1. You require an Apple ID. You can apply iCloud, iPhone or iPad account, iMessage, App Store, or any other Apple service account for this. All accounts connected with this ID will remain in sync.
2. Microsoft Window 10 May 2019 update or later
3. iCloud for Windows 7 is also available separately
4. iTunes version 12.7 or later
5. Outlook 2010 – Outlook 2016
6. Firefox 45 or later, Google Chrome 54 or later (desktop system merely), Microsoft Edge, or Opera
Note that iCloud is not accessible for Managed Apple ID users. It depends on your region and iCloud version, and specific characteristics may be not available.
Follow these above mention steps if you do not confirm which Windows version you are on. Press Window key+R to open the Run prompt and type winver before click enter. You will see a pop-up with your Windows version details. Version and OS can use to search Google for more information, including the release date.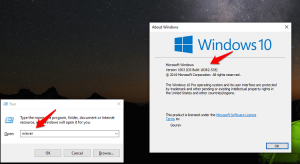 Download iCloud on Windows PC:
Head over to the download page to tap on the big blue button to begin downloading iCloud. Please save the file when asked to do so somewhere you can search it easily later. You could download it from the Microsoft Store also, which is what I suggest. The later will make it uncomplicated to install subsequent updates released by Apple.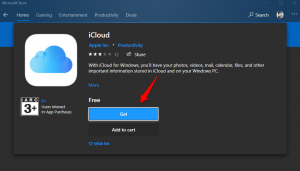 If you have downloaded the file in place of, double-click on the icon to start the installation process, follow the on-screen commands to complete the setup. Never download iCloud from any other doubted source. It may carry malware, virus, or trojan. Your data might steal, and either you will be in a worse situation, or maybe system compromised and taken over for ransomware. Surely it will be a bad idea for you.
Method to Set up iCloud:
Launch iCloud and sign in by using your Apple ID. It will automatically open, but if it does not, just tap on the iCloud icon in the Task Manager nearby clock to open settings. Choose which file types and data you need to sync to your Windows 10 computer. It includes photos and videos stored in the Photos app, mails, contacts, calendar, and tasks saved in their apps; bookmarks from Safari and other documents and data that you have saved to iCloud.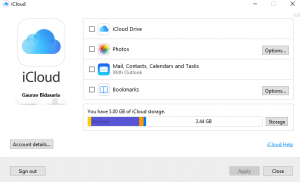 Noticed the Options button on the right side? Let's go through them rapidly. The Bookmarks option will let you select which all browser bookmarks you want to sync, and it is not limited to Safari anymore. Firefox and Chrome included, as well.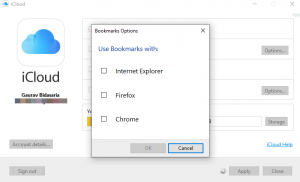 Clicking on the Photos Option button will give you two new choices. You can select to sync photos and videos saved on your computer to iCloud. You can share these photos and clips with merely those with whom you have shared these folders. You can also alter these settings later at whatever time.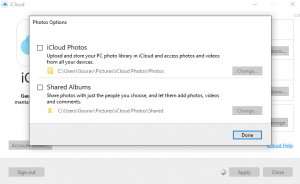 Taping on the Storage button will give you a bifurcation of all the applications that are consuming storage space on your iCloud account. You can then come to a decision on which apps are hogging resources and what will do about it.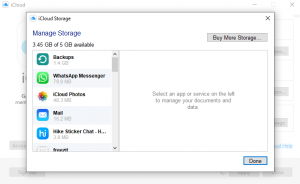 You can also proceed and buy more storage space from this pop-up window. Authorizing Photos option will automatically create an iCloud Photos folder in the File Explorer. The same goes for the iCloud Drive folder that will create should you choose to synchronize those files also.
Are you using Outlook? Authorizing Mail, Contacts, Calendars, and Tasks will add a folder in the Outlook application on Windows 10 that you can use to obtain these data. You should see it in the left Windowpane irrespective of which Outlook version you are utilizing.
Download and Install iCloud on Windows 10:
As you know, Apple has made the process pretty simple. You need to know the necessary conditions and follow the above mention steps. iCloud should be up and functioning on your computer in a very short interval or period. If you are facing some bugs or issues, do let us know in the comments below, we pleased to answer your questions.
Must note that iTunes is dissimilar than iCloud. Some Windows users get confused between these two, leading to further delays.